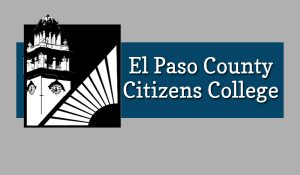 The Public Information Office is excited to sponsor the free El Paso County Citizens College.
The next Citizens College has not been scheduled yet.
Citizens College is a tremendous learning opportunity for civic-minded individuals ages 16 and older. During the full-day sessions, citizen students will be familiarized with many aspects of El Paso County government – including its statutory duties, programs and services to citizens living in Colorado's largest County. Our County's elected officials, administrators and agency partners will serve as instructors navigating participants through the inner workings of our multi-faceted and citizen-focused government.
Citizens College is designed to help participants …
1. Learn and dialogue about key issues facing their County.
2. Meet and network with County leaders, administration and fellow students.
3. Actively participate in County Government
4. Grow in their capacity to serve as future public leaders, community volunteers or engaged citizens.
Tentative topics and activities for Citizens College include:
County Government 101
County Budget Overview
Property Assessments
Tax Collection and Revenue Allocations
Q&A with County Commissioners
Parks & Environmental Services
Planning & Land Use
Roads & Transportation
Human Services and Support Programs
Elections, Motor Vehicles and Records
Sheriff's Office Overview
District Attorney's Office Overview
Citizens College Homework
Unlike previous Citizens Colleges, attendees will have to do some homework prior to attending. In order to provide more time for discussions and Q&A with County elected officials and County leadership at Citizens College, attendees must watch several videos to learn about County offices and departments. This will provide foundational knowledge and give attendees time to think about questions and topics to discuss with the presenters. This should allow for better engagement during Citizens College.