The El Paso County Assessor's Office has completed its official Fire Damage Assessment for the 117 Fire. Here is a summary of both residential and non-residential improvements either damaged or destroyed by the fire:
Number of properties:

As such, the following breakdown of value loss is:
Market Value Loss (Not-Prorated for tax year 2018):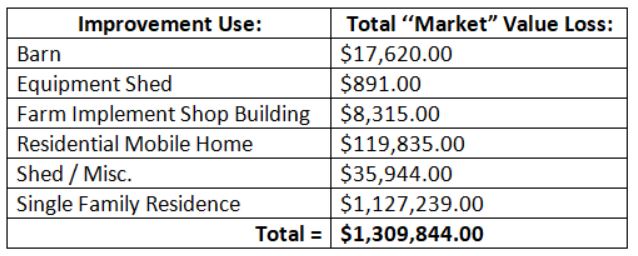 All affected property owners that have a reduction in value will be receiving a Special Notice of Value (NOV) within the next several weeks. County Assessor Steve Schleiker is hoping this will give time for residential property owners displaced by the fire to register their change of address through the United States Postal Service. These property owners will have extended an extended time period in which to appeal their new assessment.
County Assessor Steve Schleiker will be scheduling an evening meeting in mid-May, after the Special Notices of Value have been sent out. The meeting will be held in the evening at the Hanover school to give property owners an opportunity to ask questions about the damage assessment process and resulting change in property values.
The affected properties have a combination of assessment rates, both 7.20% (residential) and 29%, (commercial).
The Assessed Value is the result of applying the respective assessment rates, 7.20% for residential and 29% for non-residential to the previously estimated Market Value loss. The total Assessed Value loss is $96,840.00. Statutorily, all damaged or destroyed properties must be pro-rated, with properties being on the tax roll at full value until the date of the fire and reduced for the remainder of the year.
As such, the pro-rated Assessed Value loss is $32,200.00. Using the current mill levies, the revenue loss for the associated taxing entities on taxes paid in 2019 will be: