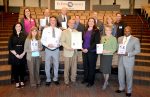 The Board of El Paso County Commissioners celebrated the ever-expanding role that local libraries play in the region when they delivered a Proclamation at Tuesday's regular meeting, announcing Library Week 2018 that begins Sunday, April 8 and runs through Saturday, April 14.
In presenting the Proclamation, Commissioner Longinos Gonzalez Jr. said, "Libraries and librarians open a world of possibilities through innovative STEAM programming, Makerspaces, job-seeking resources and the power of reading. Libraries lead in working with diverse communities, including people of color, immigrants and people with disabilities, offering services and educational resources that transform communities, open minds and promote inclusion and diversity."
John Spears, the CEO and Chief Librarian of the Pikes Peak Library District, was at Tuesday's meeting to accept the Proclamation for National Library Week.
"It means a lot to the Pikes Peak Library District staff to have the work we perform in the community confirmed by the Board of County Commissioners," Spears said, before presenting each Commissioner with a copy of the book "Legends, Labors & Loves of William Jackson Palmer" by author Tim Blevins.
"It's delightful to get a book every year that has to do with the history of El Paso County," said Commissioner Peggy Littleton. "We just love the library. I think my grandson would sleep there if I'd let him. What an asset to our community."
The Pikes Peak Library District, which formed in 1962, served more than 3.2 million people in 2017 at its 14 branches as well as during mobile library stops. PPLD held 13,456 programs, classes and community events, including story times, STEAM (Science, Technology, Engineering, Art, and Math) programs, the High Prairie Harvest Festival and the Mini Maker Faire at Library 21c.
"We've had libraries in our country for a long, long time. They are the great equalizer in education," Commissioner Stan VanderWerf said.