On any given day, 900 children on average are living in out-of-home care in El Paso County. Foster families provide secure, stable places to call home until children in foster care can either safely reunite with their parents or establish other lifelong family relationships.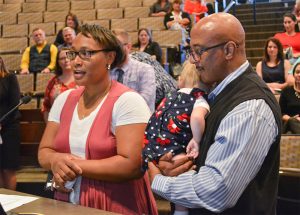 The Board of El Paso County Commissioners at its regular meeting Thursday, May 10, recognized May as National Foster Care Month, and thanked foster families for opening their hearts and homes to children in need.
"All children deserve and benefit from enduring, positive relationships with caring adults, especially when their own families are in crisis and unable to provide for their essential well-being," said President Pro Tem Mark Waller as he read the Proclamation into the record. "The immeasurable and ongoing gifts of time and caring given by foster families in El Paso County are greatly appreciated and deserve public thanks."
"I want to thank these beautiful foster families that have joined us here today," said El Paso County Executive Director of Human Service Julie Krow to the 13 families that were at the meeting for the reading of the Proclamation. "We need foster parents in El Paso County. They really go out of their way and have a special place in their hearts for the children."
The Department of Human Services works in partnership with a local Child Placement Agency (CPA) network, involved families and extended families, schools, faith and civic organizations, law enforcement and the judiciary toward the goal of positively affecting the lives of children in foster care. DHS case workers also work closely with foster families.
"You're doing such a great job and a great deed," Commissioner Longinos Gonzalez said to the foster parents on Thursday. "You're taking care of our next generation and passing along the love that you have. It is truly a great gift."
May is National Foster Care Month and serves as a platform to connect vulnerable children with concerned citizens who, as foster parents, mentors, and advocates, will help them to thrive on their way to adulthood.
"We were called to be foster parents to provide a safe home and to bring light into a dark time for these precious children," said Bri Leone, who with her husband Bradley Leone became took in their first foster child in January 2016. "Throughout this journey we've had many trials and tribulations. However, one thing has always been present and that is the need to care for these children when they have no one else to turn to. This journey has changed us, both mentally and emotionally."
Foster care is an important part of keeping children safe. On any given day, about 900 children are living in out-of-home care in El Paso County. There is a critical need for foster families across the state, including in El Paso County. According to the Colorado Department of Human, Colorado needs to recruit 1,247 new certified foster families.
Shelia and Jason Williams "felt the call again" and have become foster parents for a second time. "I have traded my Tiffany perfume for baby formula and throw up," Shelia Williams said. "And I have the most amazing husband for putting up his golf clubs to burp babies. Most people say, 'Are you crazy? You're heading towards retirement. Why would you do this all over again?' We tell them, 'Yeah, we are crazy in a good way,' What better gift can we give our families than to teach them to love."
To learn more about foster care in El Paso County, visit the foster care page at http://www.elpasoco.com/fostercare.