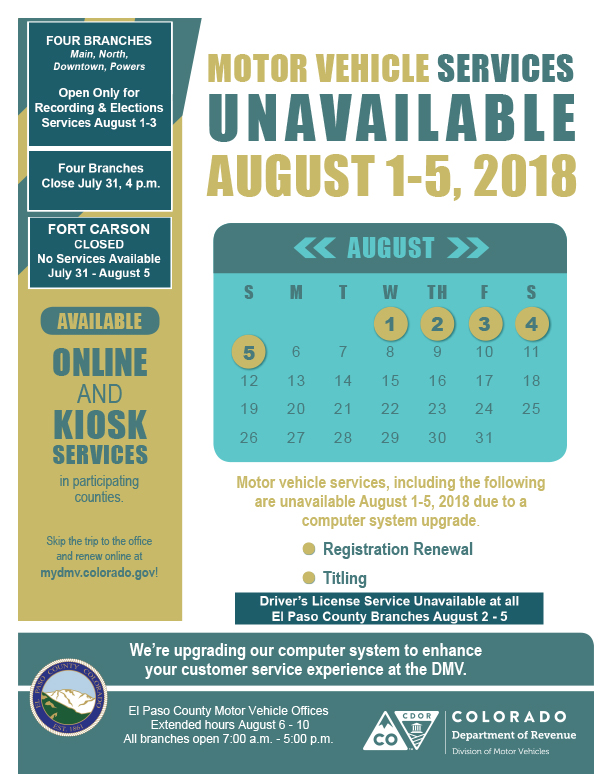 All El Paso County Motor Vehicle Offices will be upgrading to the new State DRIVES computer system to improve customer service August 1 – 5.
The following services will not be available statewide:
August 1-5 All Colorado title and registration services, including in office motor vehicle registration renewal*, vehicle titling, International Registration Plan (IRP) and ownership transfers
*Vehicle registration renewal is available online and at kiosks
August 2-5 All Driver's License Services
"We are excited to introduce the DRIVES system into both driver license and motor vehicle offices in Colorado," said Clerk and Recorder Chuck Broerman. "This new system offers a 35-year leap in technology, which will allow for a faster customer experience with several additional online service options."
Online registration renewal and kiosk registration renewal will remain available August 1-5. Individuals are encouraged to skip the trip by using online services at https://mydmv.colorado.gov
El Paso County driver license services, both in-office and online, will be unavailable August 2-5, 2018. State driver license offices will be closed. Our Fort Carson Branch will be closed July 31-August 5. Other branches are open only for Recording and Elections services. Visit www.EPCdrives.com.
Individuals whose driver license, identification card or motor vehicle registration expires in July or August 2018 are encouraged to renew early. We apologize for the inconvenience this closure may cause and look forward to providing the residents of El Paso County with a modern, user-friendly system for driver and vehicle services.