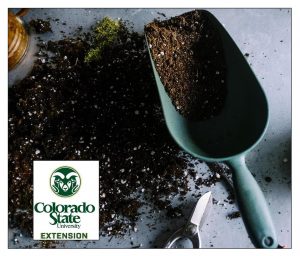 Colorado State University Extension offers Soil and Compost: Foundation of a Successful Garden. Learn how to effectively manage and amend soils in Colorado to successfully grow plants. Drainage, compaction, water infiltration and water retention are all soil properties that can be improved with proper management. Adding quality compost is a key to enhancing positive soil properties.
Date and time: Saturday, August 25, 2018 from 9:00 am to 12:00 pm
Location: Colorado State University Extension
17 N. Spruce Street, Suite 226
Colorado Springs, CO 80905
Cost: $25
Pre-registration required. Registration closes on August 24, 2018 at 12:00 pm. No refunds.
Register online at https://www.eventbrite.com/e/soil-and-compost-the-foundation-of-a-successful-garden-tickets-48012299079
For more information visit http://elpaso.extension.colostate.edu or call 719-520-7690.