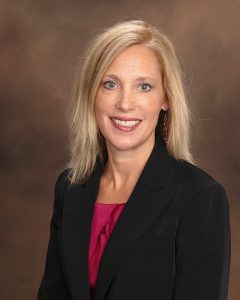 El Paso County Administrator Henry Yankowski announces the appointment of Traci Marques to serve as Director of the Pikes Peak Workforce Center (PPWFC).
Marques, has been with the Pikes Peak Workforce Center since 2012. Since joining the PPWFC staff she has served as Director of Customer Service and Community Outreach and team lead for Business Relations. She was appointed to serve as Interim Director last November.
She serves on the Boards of Catholic Charities of Central Colorado and the Southeast Armed Services YMCA. She also serves as co-chair of the Military, Veterans and Spouses Coalition representing more than 25 community organizations with resources focused on helping transitioning service members, veterans and military spouses find meaningful employment.
"I am deeply honored to be appointed as Executive Director of the Pikes Peak Workforce Center," Marques said. "I am grateful to County Administrator Henry Yankowski, and El Paso County Commissioners Stan VanderWerf and Mark Waller and Teller County Commissioner Marc Dettenrieder for their guidance and confidence."
Marques added, "I am fortunate to have an enthusiastic, hard-working staff and a dedicated, Workforce Investment Board committed to make sure that our community will be able to offer new and expanding businesses a highly skilled workforce ready. Moving forward, we will continue to serve both our business and job seeker clients, while promoting even more community collaboration. In addition, I appreciate the support and efforts of our Workforce Development Board, as they are invaluable to our mission."
Pikes Peak Workforce Center is the American Job Center serving El Paso and Teller Counties. As Director, Marques leads the Workforce Center in its mission to connect employers with work-ready job seekers and employer-driven services. Clients range from entry-level workers to executives and professionals. They include youth, adults, people returning to the workforce and those with barriers to employment. PPWFC collaborates with local leaders in business, education and government to provide job search and training opportunities at no cost. Last year PPWFC served more than 39,000 clients including more than 10,000 local Veterans.