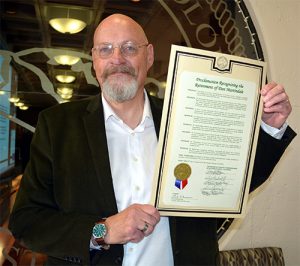 The Board of El Paso County Commissioners at its regular meeting on Tuesday recognized the retirement of Dan Martindale who worked for more than two decades with El Paso County Public Health (EPCPH). Martindale will finish out his career at the end of August as Director of Public Health.
Commissioner Longinos Gonzalez, Jr., who serves on the El Paso County Board of Health, read the retirement Proclamation into the record on Tuesday, stating, "Mr. Martindale has worked tirelessly through two decades of service to enhance the capacity of EPCPH to better serve its clients and the public. He has made the development of highly qualified public health staff a priority, expanded key community partnerships, and invested tirelessly in community collaboration."
All those who spoke to thank and honor Martindale at Tuesday's meeting spoke of the outgoing Director's leadership and also emphasized a light-hearted approach that he had in running EPCPH. He was well admired for his wit and humor, they said as a slide show played on the Centennial Hall screen featuring Dan in various costumes including the more than 6-foot-tall man's elf outfit.
"I want to thank Dan for all the support that he has provided over the years to Public Health and also to the community," said Public Health Deputy Director Susan Wheelan. "Under his leadership we have been able to strengthen community relationships and build partnerships. We really want to keep that momentum going. He is really going to be missed."
Deputy Director Tom Gonzales also talked about Martindale's leadership at Tuesday's Commissioners meeting. "He empowered all of us, his leadership team, his management group and all of his staff, to be better. He asked us to take strategic risks. He gave us the ability to strive for excellence. The relationships that we have built throughout the region come from his ability to believe in us," Gonzales said.
Martindale joined El Paso County Public Health in June 1995. He held various roles during his tenure, including manager of such programs as the Tobacco Education and Prevention Partnership, Maternal and Child Health, the Nurse-Family Partnership, and the Suicide Prevention Program.
Dan took over as Deputy Director of in 2011 before becoming Director in 2014. Wheelan will succeed Martindale at the Public Health helm, assuming the role of Interim Director on Sept. 1, 2018.
Martindale thanked all of his staff during the last 23 years, calling them "my other family."
"Most importantly, I want to thank all of my staff. We spend more time with those folks than with our actual family," Martindale said. "It's been an honor and privilege to serve with all the staff of Public Health and to serve the citizens of El Paso County."