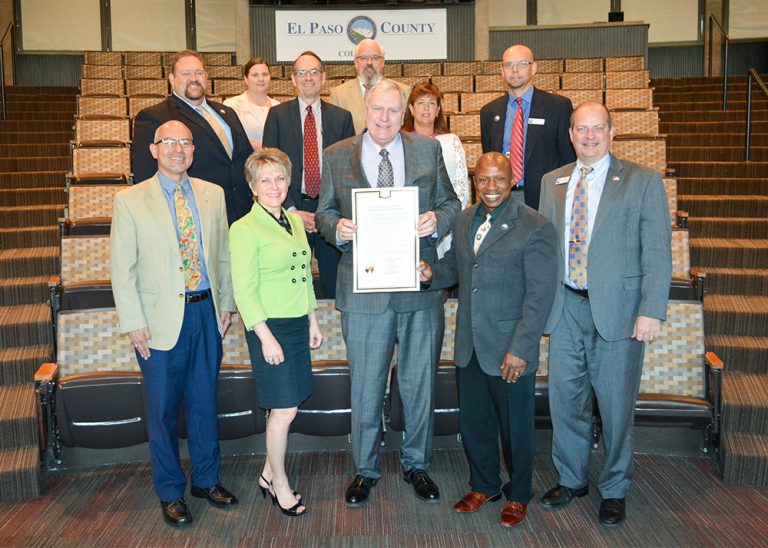 The Board of El Paso County Commissioners proclaimed April as National County Government Month in El Paso County. The Proclamation, on Thursday, April 12, was made in conjunction with the National Association of Counties (NACo) which represents county governments nationwide. The theme set by NACo for 2018 is "Serving the Underserved."
Board President Darryl Glenn read the Proclamation into the record, noting that "the nation's 3,069 counties, serve more than 300 million Americans with programs and services to create and sustain healthy, safe, vibrant and resilient communities. Counties are responsible for 45 percent of all public roadways and 40 percent of bridges, and county owned facilities including jails and courthouses, are critical to preserve public health, protect public safety, administer justice, assure fair and honest elections, manage the human services safety net, safeguard public records and much more."
Representatives from various El Paso County Departments were in attendance Thursday to receive the Proclamation and share some of the work that their teams are doing during April and throughout 2018.
Tim Wolken, the County's Director of Community Services, said, "We've done a good job of listening closely to our citizens and organizations and offering services and programs that they value versus trying to be all things to all people. We try to zero in on what's needed in our county. We couldn't do it without our citizens."
Some El Paso County events and programs happening during County Government Month:
All of April … National Child Abuse Prevention Month
April 5 … Updated County Website Launch
April 10 … Severe Summer Weather OEM Workshop
April 11 … Weather Spotter Training: OEM & Nat. Weather Service
April 14 … Clean Sweep: Household Hazardous Waste Event
April 14 … Well Water & Septic Workshop: Public Health & CSU Extension
April 18 … "Chosen" Child trafficking movie hosted by DHS
April 21 … Great American Cleanup
April 22-28 … Public Health Laboratory Week
April 26 … Ute Pass Wildfire Preparedness OEM Exercise
More events and programs happening leading up to the County Fair in July:
May 3 … Citizen Connect Launch at Commissioners Meeting
May 5 … Letter Rip: Community Document Shredding Event
May 5 … Ute Pass Wildland Fire Preparedness OEM Workshop
May 9, 12, 19 … El Paso County Citizens College
May 11-13 … Pikes Peak Birding and Nature Festival
May 12 … Wildland Fire Preparedness OEM Workshop
June 9 … Clean Sweep: Household Hazardous Waste Event
June 10 … Black Forest Fire 5th Anniversary Community Picnic
July 14-21 … El Paso County Fair
Meetings of the Board of County Commissioners can be viewed through live streaming at www.elpasoco.com by scrolling down the main page and clicking on the Board of Commissioners link under "Offices, Departments & Affiliated Agencies." Commissioners meetings are replayed on the El Paso County News and Information Channels Comcast Channel 59 and Century Link High Definition Channel 1089. Regularly scheduled BoCC meetings are held Tuesdays and Thursdays starting at 9 a.m. in the Commissioners Hearing Room at Centennial Hall, 200 South Cascade Avenue in downtown Colorado Springs.